On Wednesday, actress
Swara Bhasker
who is an avid Twitter user, dropped a picture of herself donning a saree at a park and captioned it, "A sari, a park, a walk, a book… 'at peace' must feel like this #smalljoys #gratitude #feelingwise." However, things took a different turn in the comment section when a Twitter user trolled and compared her to household help.
The user commented on the picture, "My maid looks much better than you in saree. Much more graceful than you." To this, Swara quickly responded in the comment section and wrote, "I'm sure your household help is beautiful. I hope you respect her labour and her dignity & don't act like a creep with her."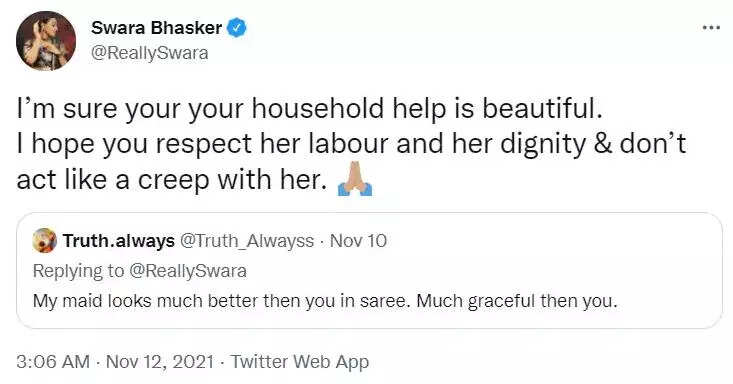 This is not the first time that Swara has clapped back at online criticism and hateful comments. Previously, she was spotted giving a befitting reply to a man who took a dig at her magazine cover shoot and said, "Finally Nallasopara gets a face in Vogue. Congrats to all."
Swara responded, "And why not?!? Nallasopara should get a face and space in @VOGUEIndia as should Dharavi… And Shahdara, & Seelampur… why the hell not you pretentious half-wit pretending to be 'elite'… You live off the labour of those who live in the areas whose names you use like slur… #loser".